About Services
Being aware of the increasing need for proper maintenance and correct diagnostics, Colvin Infrared specialized in variety of different services in order to accommodate all the requirements a customer may have. With our services available 24 hours per day, 365 days per year, we want to show that we will go the extra mile for each customer. After the initial work, we will repeat the process, after you have made the repairs, at no additional cost to you.
A Loaner Camera Program is available to all our customers, so they can perform the spot check of their system, in the case we are unavailable to respond immediately.
We service all makes and models of transformers, CBs, oil analysis, filtration, degasification, as well as many other services. We offer vibration analysis on all size motors and turbines, and also borescope video testing.
Click here to request a quote at no obligation!
Don't let this happen to you...
Let Colvin Infrared help detect these problems before it's too late. Our technitians are awaiting your call any time of the day or night.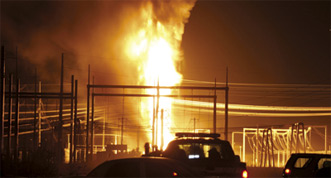 Our mission is to consistently provide the highest levels of quality, service and integrity, through the delivery of our professional consulting, design and testing services. We believe in loyalty to our customers and the development of relationships based on trust and mutual respect. We do this to support growth for our company, while providing services at a fair cost to our clients. If we can assist you in any of services we perform, please don't hesitate to contact us any time of day or night.